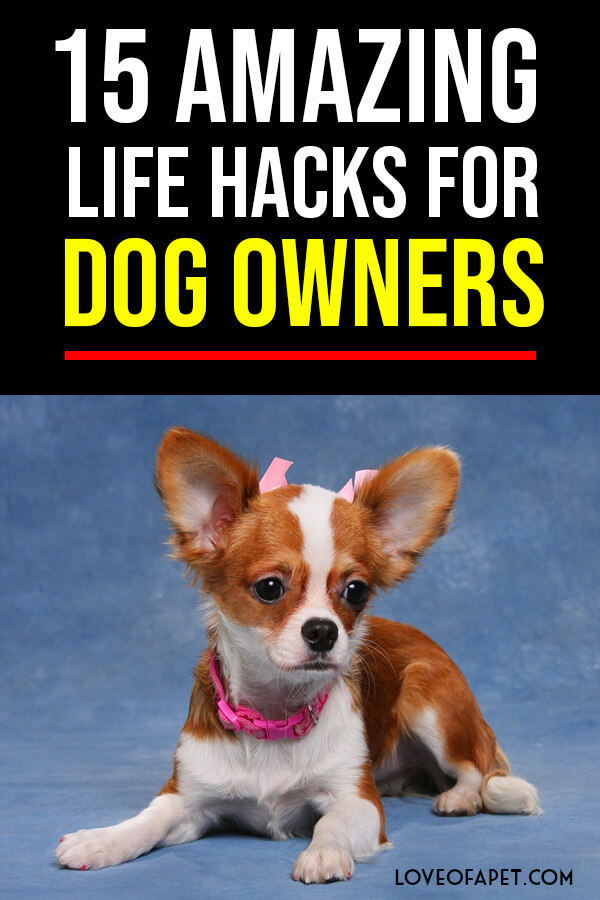 Amazing life hacks for dog owners to make having a pet an easy task! Know these fantastic tips and tricks ensure a happy pet and a happy you. DIY steps, smart ideas, easy solutions and much more!!
A dog is man's best friend, an entertaining companion, and an unconditional lover all bundled into one playful, woolly bundle of joy and goofy fun. But, proper caring of your beloved bowwow involves extra responsibility, spending time with it, and sometimes even unforeseen expenses.
15 Amazing Life Hacks for Dog Owners:
Here is a genius list of what dog owners should know to save time, money and energy. Our list of easy tips for dog owners makes caring for your pet both easy and efficient:
1. Homemade Chicken Jerky:
All dogs love to eat chicken jerky. Most store-bought chicken jerky contains chemicals, preservatives, and is expensive. Homemade chicken jerky is a delicious, healthy and affordable option. All you need to do is marinade the chicken breasts in peanut butter and soy sauce and bake it in the oven to make the perfect homemade chicken jerky.
2. DIY Pill pockets:
Pill pockets are really helpful when your pet falls ill and hates taking bitter medication. Do It Yourself pill pockets are easy to make and will save you a lot of money. Homemade pill pockets include hiding the pills in penne pasta, affixing it inside a sausage, or by creating a peanut butter ball by mixing peanut butter, milk, and flour together.
3. Homemade shampoo:
Regular shampooing is extremely important to keep your dog smelling fresh and to protect it from bugs, fleas, and ticks. This homemade shampoo recipe is easy to make, inexpensive, and will keep your dog smelling fresh. Combine liquid dish soap and vinegar with water to make an amazing homemade shampoo.
4. No nibble spray:
Are you tired of your pet's nibbling habit? Commercial anti-nibble sprays may seem the easier option but are quite expensive. To make a homemade anti-nibble spray, mix about four cups of apple cider vinegar with two cups of white vinegar. Spray at your dog's favorite nibbling spots. The bitter taste of vinegar is sure to deter your dog from nibbling at those spots again.
5. Icy Summer Popsicles:
During hot summers there is nothing better than homemade ice popsicles to cool them down. Blend a can of coconut milk and about 1/4th watermelon in a food processor. Pour into an ice tray and freeze to create deliciously cool frozen popsicles to cool your woolly buddy.
6. Parsley Mouth Fresheners:
If your dog is experiencing bad breath, it may be really expensive to buy artificial mouth fresheners from the pet store. Parsley is a great natural mouth freshener. Bake these Parsley bites at home using fresh mint, parsley leaves, activated charcoal, coconut oil, and ghee. This parsley treat is not just a terrific mouth freshener but is also high in nutritional value. And your dog will love the taste.
7. Trick Toothbrush:
Dogs need clean teeth just like humans. Little pups are often averse to teeth brushing. If dog's do not follow a dental routine then they are susceptible to bad breath problems. If your pup doesn't like a regular toothbrush, a simple solution is to spread doggie toothpaste on its favorite bone or chew ropes.
8. Homemade Toothpaste:
A lot of times, dogs do not like the artificial taste of expensive commercial toothpaste, just like they don't want to follow a tooth brushing routine. Dog toothpaste can be easily made at home using coconut oil, cinnamon, sea salt, baking soda, and parsley. It is made of natural ingredients and can be stored for a long duration. The best part is dogs love the taste!
9. Homemade Tick Repellent:
To make a tick repellent at home simply mix about vinegar ( 8 ounces), baking soda ( half teaspoon), iodized salt ( one and a half spoon), in 4 ounces of warm water. Store the liquid repellent in a spray bottle. Spray the homemade tick repellent on your dog's hair when it is going out to keep troublesome ticks away.
10. Hair Removal:
Most dogs, especially the hairy ones, usually leave behind a hairy mess on sofas, couches, and carpets. It can be quite frustrating to see a jungle of hairy mass around your home. To clean hair instantly you can use a window squeegee to clean unsightly pet hair from your car seats, sofas, carpets, and even your clothes.
11. Dealing with earaches:
An earache is as traumatic for your pet as it is for you. Earache problems can be avoided by gently massaging its doggie ears with a cotton ball, plus few drops of oil. Q-tips should be avoided as they may worsen the problem.
12. Semi-Stuffed toys:
Dogs love to play with stuffed toys and they often tear them apart. You can make a semi-stuffed toy by stuffing fabrics inside a Hole-ee Roller Ball. You can even hide a treat inside it. Your pet is sure to spend hours tearing away at it.
13. Cool in the pool:
An inflatable pool filled with cold water and lots of ducky play toys work wonders to cool down your pet during the scorching summer days.
14. Scratching posts:
Dogs love to scratch their back against furniture but unfortunately, leave behind an unpleasant odor. Make a scratching post for your pet with a plank of wood. Glue sandpapers of varying coarseness on the plank. Place it near your pet's playpen and train it to scratch on it.
15. Homemade deodorizers:
Homemade deodorizers are a natural and cost-effective solution to getting rid of the doggie smell from your home. Vinegar mixed with essential oils is a great homemade deodorizer. You may also sprinkle baking soda on the dog bed, dog toys, carpets, and furniture to remove unpleasant dog odor.
Parenting a pet dog is all about tender loving care. With the help of these amazing hacks, you can offer a natural and cost-effective solution to caring for your furry friend.