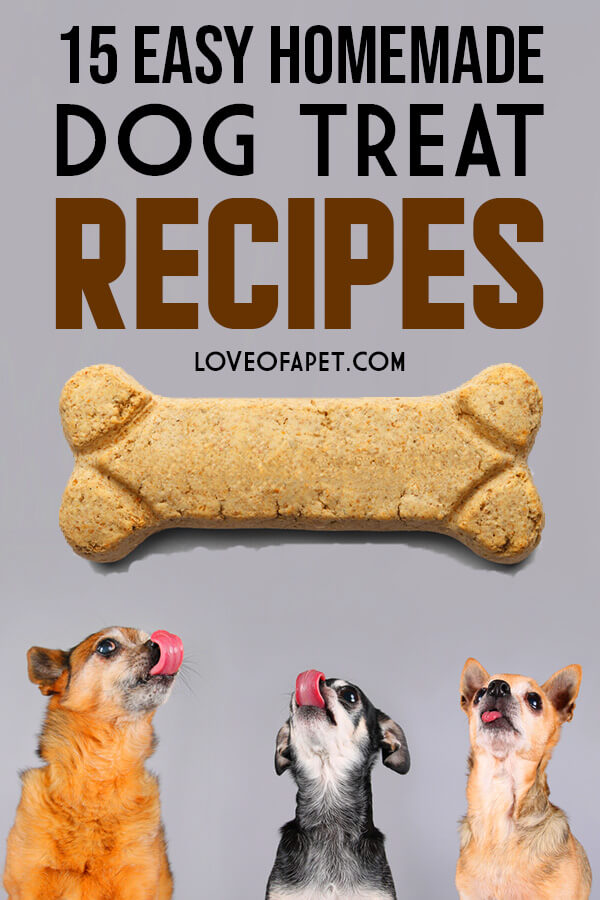 Making homemade dog treat can be really easy. Follow our Easy Homemade Dog Treat Recipes for healthy dog treats that are not only yummy but also safe, and nutritious.
Most dog owners are worried about the store-bought dog treats. You may also often contemplate on feeding them homemade treats, but that may leave you with certain questions: Are homemade dog treats safe? Are they healthy?
It's time to give up on your inhibitions as making dog treats sure doesn't ask for great cooking skills; you can make the most delicious treats for your pet using less than five ingredients.
Top Benefits of Homemade Dog Treats: Why homemade treats for your dog?
A clear idea of nutritional value.
Organic contents—no need for unhealthy preservatives.
Customized to suit your pet's taste preferences.
Cheaper and better than store-bought food.
A healthier and safer option.
15 Easy Homemade Dog Treat Recipes:
1. Learner's Love / Dog Milk:
This simple two ingredient recipe is perfect for dog owner's who really have no cooking skills. Mix together 2 cups of whole wheat flour, 2 jars of pureed baby food, and water. Roll out the dough and cut out the treats using a paw shaped cookie cutter, and bake in an oven.
If your dog loves to eat peanut butter, it will simply love these delicious peanut butter cookie treats. Mix flour, eggs, water, and peanut butter together to make a dough. Roll out and cut with bone shaped cookie cutters. Bake for approximately 20 minutes. Voila, your Peanut Lover's Paradise is ready.
This awesome combination of bacon and cheddar is both delicious and power packed meal for your little ball of energy. Mix oats, cheddar cheese, eggs, and cooked bacon in a processor. Roll the dough in finely ground oats for a crunchy treat. Bake for an amazing yummy in the tummy dog treat.
This recipe is great for our vegetarian dog lovers and is one of the most healthy dog treat recipes. Using an electric mixer beat pumpkin puree, eggs, and peanut butter for a couple of minutes. Slowly add oats and whole wheat flour, till the dough is no longer sticky. Add our super combination of shredded zucchini, carrots, and finely chopped spinach to the dough. Cut into cute shapes using a cookie cutter and bake in the oven.
Simply puree the leftover chicken breast, chicken broth and wild rice in a food processor. Add flour, salt, and eggs to make a dough. Roll the dough and cut into heart-shaped cookies. Bake in the oven. If you are wondering about how long do such homemade dog treats last this power booster can last for almost 6 months if stored in a freezer.
Your faithful friend will simply love these Doggy Donuts. Combine the Flour, oats, coconut oil, peanut butter, and eggs to form a dough. Fill the dough in a donut pan cavity and bake in an oven. Once it has cooled down a bit, glaze with Greek yogurt and bacon pieces to make a delicious doggy donut. A delicious delight for your dog!
7. Frozen Watermelon Relish / Grrfeisty:
Your dog will simply love this Frozen Watermelon Relish, especially during the sizzling summers. Blend together a can of coconut milk and about 1/4th watermelon. Pour into an ice tray and freeze to create a fantastic frozen Popsicle that your furry friend is sure to relish through the scorching summer.
If your dog is experiencing bad breath, treat it with these Mouth Freshener Fancy treat and you will literally smell an improvement in its breath. Made using fresh mint, parsley, activated charcoal, coconut oil, and ghee this treat is both high in taste and nutritional value and acts as a great mouth freshener.
This classic recipe by Martha Stewart is an all-time favorite among dog owners. Mix together flour, brewer's yeast, wheat germ, and other ingredients to form a dough. Form cookie shapes and then form soft indents using your finger to create a paw print cookie. Bake the cookies, and brush them with some chicken broth halfway through.
10. Crunchy Apple Pupcake / Cesar's Way:
Here is a lovely pupcake for your lovely pup. Create this delectable delight combining water, applesauce, honey, vanilla extract, an egg, flour, apple chips, and baking powder. Pour the batter into a muffin tray and bake for about 75 minutes. Your dog is definitely going to adore this pupcake.
A wholesome dog treats made out of parsley, wheat flour, oats, milk, peanut butter, and eggs. These vegetarian delights are super tasty and a very healthy option. Replace the smooth peanut butter with crunchy peanut butter to give these parsley cookies a crunchy twist. These nourishing and wholesome cookies are even preferred by vets.
12. Apple Cheddar Craving / Martha Stewart:
This delicious combination of unsweetened apple sauce, parmesan, and cheddar cheese, mixed with flour, oats, and olive oil creates the most scrumptious Apple Cheddar Craving cookies which your charming canine will surely crave for.
These wholesome biscuits made from flaxseed, flour, and wheat germ are a delicious and nutritious option, especially if your dog is on a diet. Use alluring cookie cutters to enhance the visual appeal of this invigorating and beneficial meal.
14. Leftover Mix Up / Modern Dog:
Toss all your leftover meats, vegetables, and fruits, together. Finely chop them into little pieces. Bake for about 30 minutes to have a super combination of leftover trail mix.
A terrific cookie recipe made out of almond flour, coconut flour, cranberries, coconut oil, and eggs. Bake the dough to make Crazy Cranberry cookies. Enriched with the natural sweetness of cranberry, almonds, and coconuts, this is the ultimate sweet treat for your pet. Both pups and adult dogs will love these Crazy Cranberry Cookies.
Dogs are like little children. Feeding is an important part of bonding with them. Give up on store-bought unhealthy and expensive food. Instead provide your pet buddy with homemade food that is wholesome, delicious and easy to make.